Ruins capture the viewers imagination with their ability to tell stories; they are a window into human histories, silent rooms with dust covered furniture, discarded objects that are left behind and a smell of mustiness lingering in the air echoing a past long gone.

I feel that one of the most powerful aspects of a ruin is the subject that's missing in the photograph - the people who once worked and lived in these places - their presence can still be felt.


N.B. Please note that some locations are not revealed to protect the integrity of the site/property and it's owner.







Best Wishes

Brian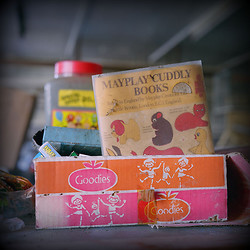 Gallery
'Geoffrey's House'
George was a well respected gent who was an engineer by trade - his house is a little treasure trove and deserves it's own little gallery. Situated in the same village as The General Stores it has now been bordered up.
'Ye Olde Curiosity Shoppe'
What a little gem this place is! Crammed full of all sorts of paraphernalia.
'Regina'
'Regina' is a bungalow of non standard construction. I came to the conclusion that the property was vacated back in 1999.
'Yallops'
Joan was highly regarded in the shoe retail business in Norwich. Her shop was situated on St. Augustine's Street in the City. I had the pleasure of photographing her a number of years ago for a personal project - more on this on my blog page. The shop has been restored and still retains the name.
Bessingham Manor House
I have decided to dedicate a separate gallery specifically showing what this splendid Victorian Manor House has to offer - more to follow...
Farmhouses and Cottages
A collection of Farmhouses and Cottages along with some interiors containing some rather unusual paraphernalia.
Windows and Doors/ Curtains and Wallpaper
Windows and doors of various shapes and sizes; this gallery contains some bold and retro designs of curtains and wallpaper.
Transport and Machinery
Rusty Relics of a Bygone Era
Miscellaneous Gallery
This gallery contains a varied selection of images including churches, country houses and various other bits and pieces.
The Black & White Gallery
Back to black and white; attempting to recreate my passion for traditional photography from the days of the darkroom with the past magical experience of the image slowly appearing in front of you and the pungent smell of chemicals.
Limited Editions
Chlorobromide photographs produced using traditional methods in the darkroom.